Bridgeport Harig
As of January 1st Harig Products closed it's Elgin location and is moving all parts to the Tru Tech Systems location in Mt Clemens, Michigan. I will continue to sell OEM parts and provide phone service for all the Harig Grinders from my home office located in Hampshire IL. Please contact me if you need parts, phone support, Bridgeport Harig machine parts, or any new and used machines.
This is what your early 70s Harig Autostep 618 could look like after it's been reconditioned & updated. Grinder rebuilds are always available for approximately 1/3 the price of a new machine. Harig machines are American made and parts are always available. Reconditioned machines can be rescraped & rebuilt to new machine tolerances! Email me for more information.
Contact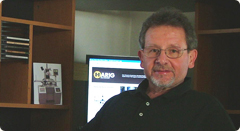 I'm Jim Seyller of JDS Tech Support. I have the mechanical & electrical solutions for all your Harig surface grinder needs covering all Bridgeport Harig & Tru Tech models dating back to 1967.
JDS Tech Support

(847) 683-0476Telephone:
jdsserv@aol.comE-mail:
About
I am an Authorized Harig Consultant and Technical Support Specialist
I am now consulting from my home office and am looking forward to serving you, our valued customer. If you own a machine ten years or older you may
contact us
for parts and service. Many of our part numbers today don't match the part numbers you have in your manuals or your past notes, call and I will give you the retrofit part numbers for any future maintenance you may need. I can also suggest preventative maintenance and instruct you on the proper installation of your part, preventing costly damage to your machine.
President,