FOR SALE: New & Used Surface Grinders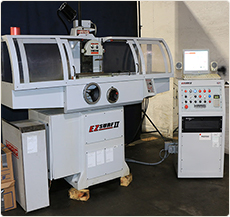 Harig 612 Handfeed FOR SALE
Like New
Type:
Used
Built:
1998
Serial #:
20424
Okamoto 618 ACC DX3 FOR SALE
Automatic Downfeed
Table & Crossfeed
Type:
New
Built:
1999
Okamoto 16-32DX FOR SALE
Refurbished
Automatic Downfeed
Table & Crossfeed
Type:
Refurb
Built:
1996
Refurbished OKAMOTO 1224 DX Surface Grinder with DX-5 Automatic Wheel Dresser and Wheel Compensation. Serial Number 14421 New 1996. For more details please contact Jim at 847-683-0476 or email me at JDSSERV@aol.com for more information.
Welcome to JDS Technical Support
Having worked for Harig Products for over 42 years, I am an authorized Harig consultant and technical support specialist for Tru Tech Harig Product Surface Grinders, proudly serving the best American small to mid-sized grinder manufacture in the world. I have an in-depth knowlege of our product engineering, design, production and development, and am an expert in both electrical and mechanical services for all Harig models. Email JDS Technical Support for all your Harig Surface Grinder needs.

New & Used Surface Grinders
Looking for good used Surface Grinder? If you're interested in any of the grinders below, or other machines we have to offer, please call Jim Seyller (847) 683 0476 or send an Email.
Parts and Service
Need service? Excess backlash in crossfeed, no tablefeed, no crossfeed, grinder cables slipping, leaking oil, no lubrication, software issues. If you need service JDS Technical Support can troubleshoot, diagnose and solve.
Need parts? Downfeed screws, gears, switches, longfeed cables, cylinders, crossfeed and downfeed printed circuit boards and oil pumps... basically if you need it, we'll help you replace it.